Undershirts are not really a favorite piece of clothing for men. However, not many people understand how practical and comfortable they can be. And since the needs have changed a lot, and many famous brands have started making them, there are now many designs that are pretty trendy as well. To find out what some of the best types of undershirts are, read our little guide.
Classic cotton undershirt
The basic idea of undershirts is to keep you dry and protect you from sweating too much. Classic cotton undershirts are the best for this purpose. During hot summer days, you can wear them under mens suits, and be sure that you won't find yourself in any uncomfortable sweaty shirt situation. During the winter, they are a great item to keep you warm and provide comfort when you are wearing sweaters, for example. Especially because they are light and breathable. The crew neck is the most common neckline if you get a thick strappy one. Short-sleeve undershirts have more variety, for example V-neck or U-neck.
V-neck from Mack Weldon
If you want a quality undershirt, Marc Weldon is one safe option. The first and most important thing is that they are made from cotton and lycra, which makes them comfortable and stretchy. The design is slim fit, which means that it won't be uncomfortable when you wear something over it. However, they are a bit longer, allowing you to move without untucking. The V-neck is there to keep it undetected underneath any type of neckline you might wear.
2(X)IST cotton square undershirt
If you are a fan or ribbed cotton, these shirts are perfect for you. They have thick straps that won't stretch out and will stay in place. The slim fit design lets you wear them underneath everything, including tighter blouses or shirts. There is also a thick strap right underneath your armpits, which provides extra security from sweat and marks on your clothes.
Lululemon 5-year basic tee
For all of you who like the classic style and a bit looser design of undershirt, Lululemon has got you covered. This shirt is super soft and stretchy, making it your perfect companion for the gym as well, for example. They are pretty trendy considering they are basic undershirts, which means that if you like dressing casually, you can even wear these as regular t-shirts.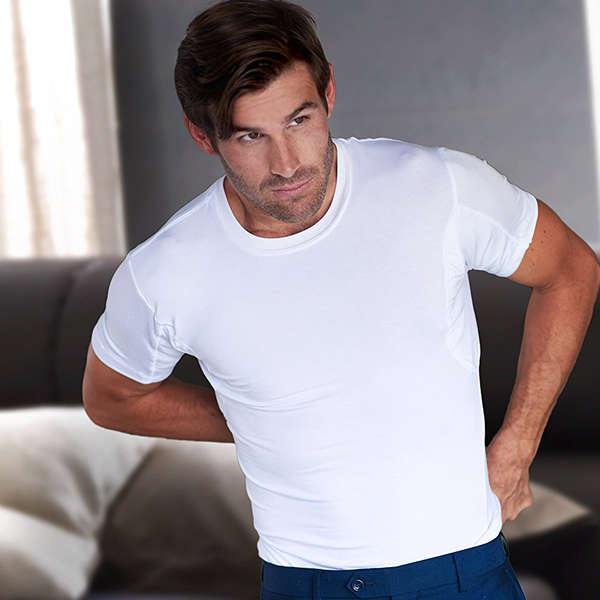 Under Armour sports shirt
The perfect undershirts for athletes and anyone who works out are the ones from Under Armour. The perfect fabric combination (polyester and rayon) wicks away the sweat, keeping you dry and odor-free. They are stretchy and comfortable enough, so you will feel like you have nothing on.
Club Monaco linen undershirt
In recent years, an emphasis has been placed on the importance of natural fabrics. Linen is one of them, which is light and breathable and won't cause you any discomfort. These shirts may not be suitable for under sweaters and blouses, but on chilly nights, they look and feel amazing under a denim jacket, for example.
Spanx compression shirt
Compression shirts are the right choice when you want to look really slim and fit. This is the case with weddings and celebrations when you know you will be eating a lot. They too wick away moisture, keep you cool, and make every piece of clothing look amazing on you. You can choose the black and white variety, or crew and V-neck depending on the type of your outfit. This way, it will be even more subtle and undetectable underneath.
Undershirts are a practical, comfortable, and sometimes necessary part of your wardrobe. The newest designs, fabrics, and styles are there to show you that you can still be trendy when wearing them, you just have to choose the best ones for you. Hopefully, our list was able to help with the choice.